In this car we listen to Taylor Swift and we only listen to (Taylor's Version)! 
Choose your scent and choose which car freshener style you'd like! The clip on version clips onto car vents and the hanging car freshener is tied around the rear view mirror
Regular price
Sale price
$10.00
Unit price
per
Sale
Sold out
Share
Cruelty Free + Vegan

Phthalate Free Fragrance

Made in Dallas, TX
View full details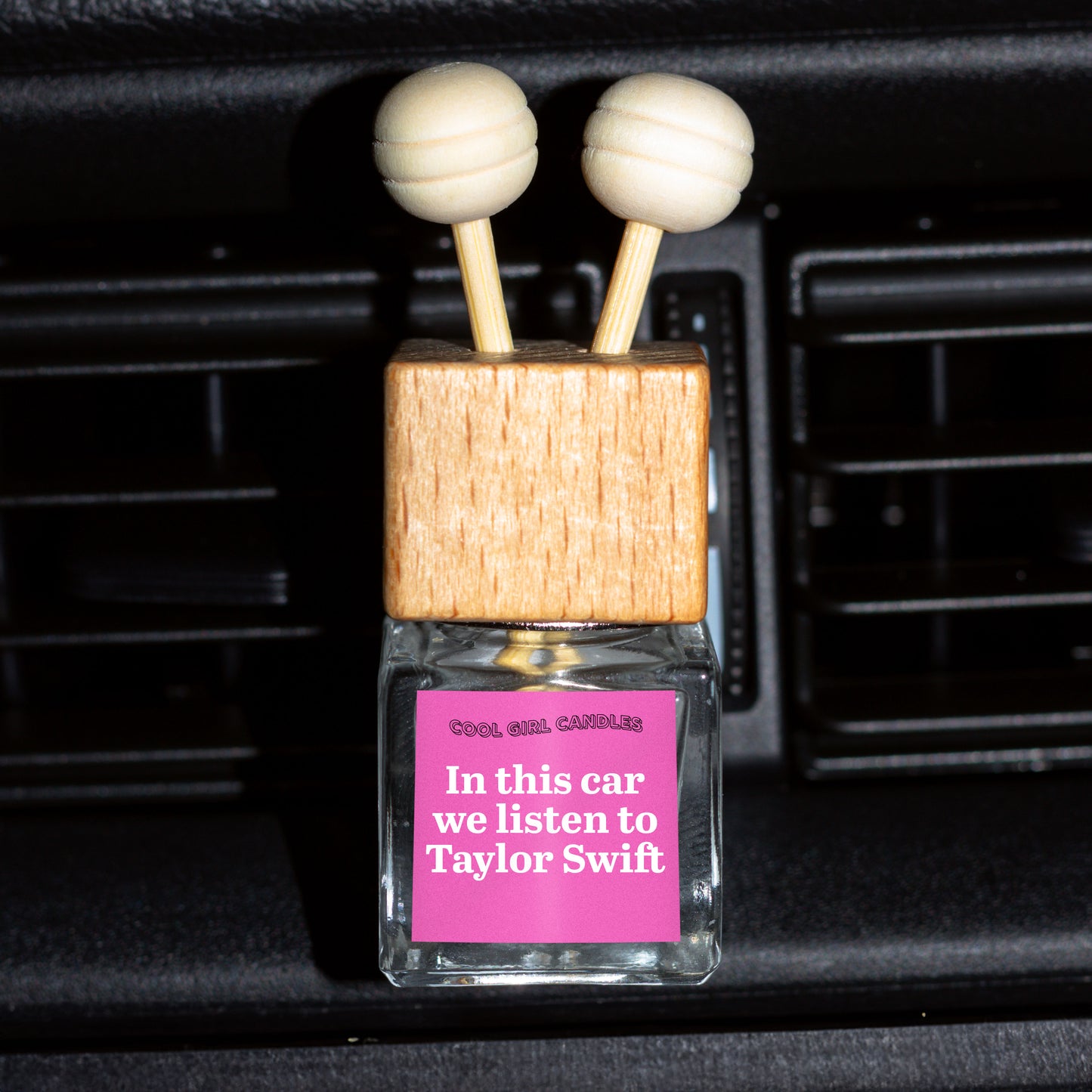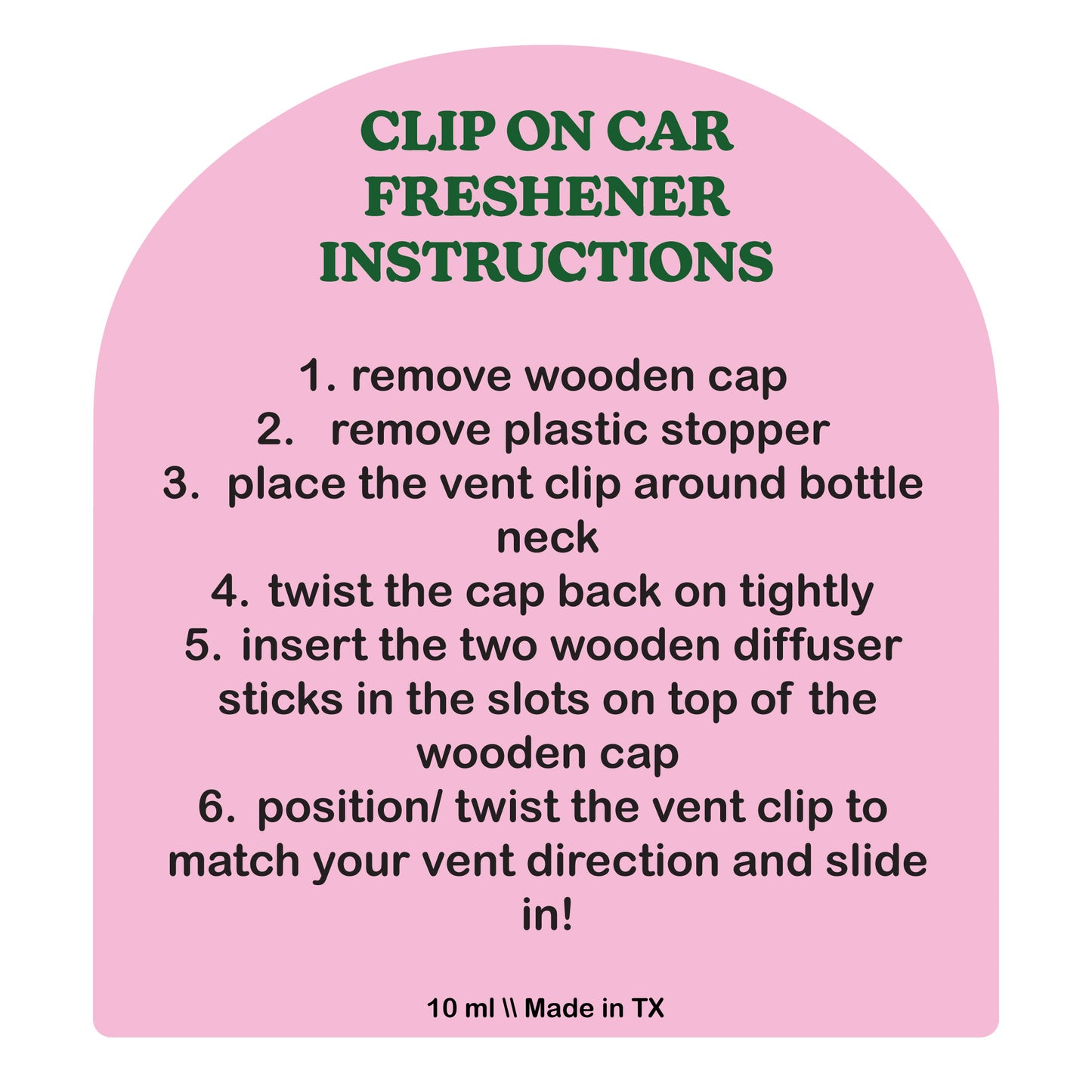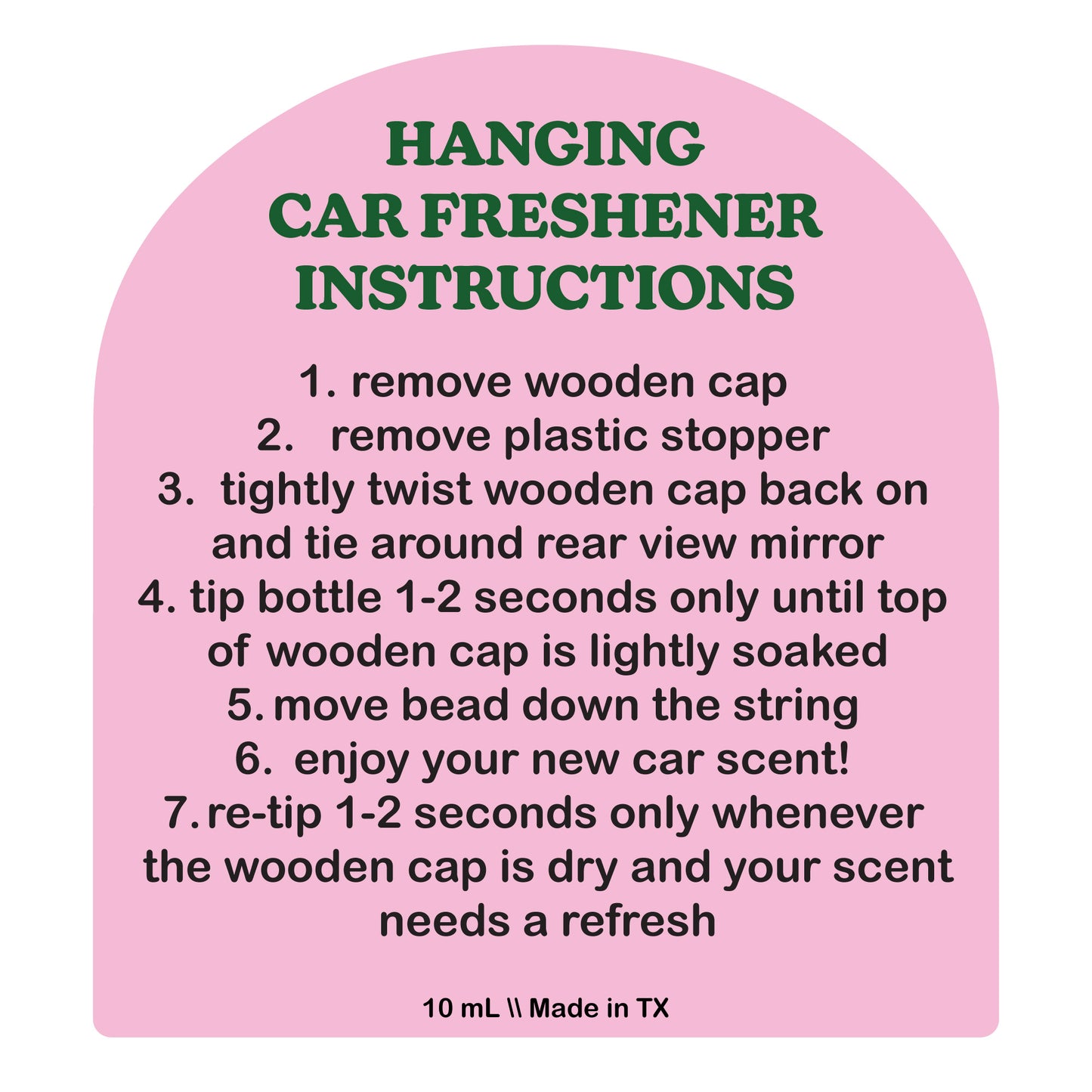 Collapsible content
Scent

OUR SCENT OPTIONS:
⭐️ Black Ice: Inspired by the iconic black ice car freshener scent— lemon, eucalyptus, lavender, clove, jasmine, cedar, oakmoss, and vetiver
⭐️ Cactus Blossom: Inspired by BBW Cactus Blossom— cactus, flower petals, sparkling citrus, vanilla, and coconut
⭐️ Cereal: Inspired by the scent of Froot Loops cereal — lemon, lime, grapefruit, and vanilla sugar
⭐️ Champagne Bubbles: Inspired by BBW Champagne toast — bubbly champagne, sparkling berries and sweet orange
⭐️ Cloud Nine: Inspired by Ariana cloud perfume — lavender blossom, pear, coconut, whipped cream, praline, vanilla, musk, blonde woods, bergamot
⭐️ Hawaiian Sunset: Inspired by Capri Blue Volcano— strawberry, raspberry, sugared citrus, jasmine, mango
⭐️ Peppermint + Vanilla: Inspired by BBW Twisted Peppermint— peppermint, icy snow, balsam, and vanilla buttercream
⭐️ Pink Sands: Inspired by Yankee's Pink Sands— coconut, melon, berry, jasmine petals, vanilla, musk, woods
⭐️ Pink Sugar: Inspired by Aquolina Pink sugar— cotton candy, bergamot, fig, orange, berries, caramel, vanilla, and sandalwood
⭐️ Pistachio + Salted Caramel: Inspired by the SDJ bum bum cream scent — pistachio, almond, jasmine, vanilla, salted caramel, and sandalwood
⭐️ Sweater Weather: Inspired by BBW Sweater Weather— fresh sage, juniper berry, eucalyptus, fresh woods
⭐️ Teakwood + Mahogany: inspired by BBW Mahogany Teakwood— mahogany, teakwood, oak, and lavender
⭐️ Tobacco Vanille: inspired by Tom Ford Tobacco Vanille— tobacco, warm spices, creamy vanilla, cocoa
Details

• 10 ml
• Phthalate free
• Discontinue use if oil spills
• Made in TX
• Attach to most car vents via a vent clip included with each bottle
How To Use

FOR THE CLIP ON CAR FRESHENER:
1. Remove the wooden cap and the plastic stopper
2. Place the vent clip around the bottle neck
3. Twist the cap back on tightly
4. Insert the two wooden diffuser sticks into the slots on top of the cap
5. Position/ twist the vent clip to match your car's vent direction and slide it in
6. Enjoy your new car smell!

FOR THE HANGING CAR FRESHENER:
1. Remove wooden cap and the plastic stopper
2. Tightly twist the wooden cap back on and tie around rear view mirror
3. Tip bottle 1-2 seconds only until top of wooden cap is lightly soaked then move bead down the string
4. Enjoy your new car scent!
5. Re-tip 1-2 seconds only whenever the wooden cap is dry and your scent needs a refresh

Would've could've should've bought this sooner
It's so cute & smells so good 💖 will definitely be buying again!